hi! I am new here, so i hope i am doing this right/posting this @ the right category etc.
So! I have always been a Pokefan, as a kid always been collecting cards, sold them all when i was like 12 y/o for maybe 3 euro's because, yeah, teenagers. (pls do listen to your parents, i was never allowed to sell my cards, i did it anyway. The regret) So, i dabbled in collecting cards again a few years later (been playing pkmn on and off till now) but there was a big break in collecting the cards.
Am a HUGE eeveelutions fan… so i decided to just focus on eevee and its offspring! well. I thought that'd be easier then collecting whole sets. Boy how I was wrong. Sorting 9 evolutions in binders in a specific order? Wish me luck. But it will be so worth it.
Here is a quick pic of the cards! 9 piles of cuteness, each pile = 1 eeveelution. I think i may have around 120 cards? And oh, did I mention I only began "officially" collecting them maybe 2/3 weeks ago? I may or may not have a problem. That will be one for future me. Anyway; does anyone have the GOLDEN TIP how one would organize/sort a binder with the eeveelutions? Or any tip is welcome!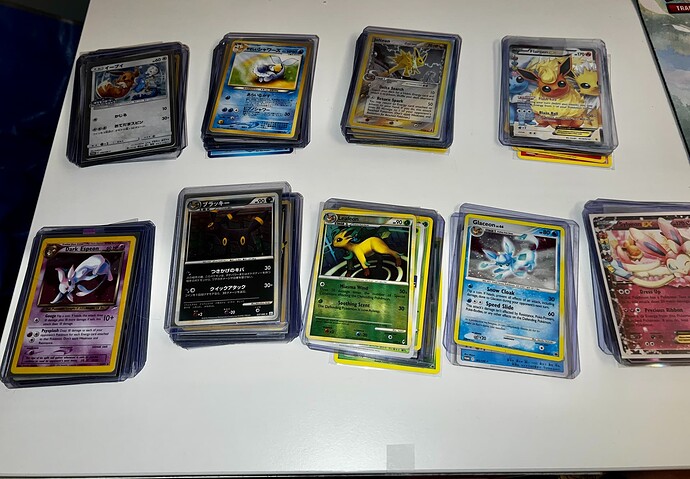 btw english aint my primary language, sorry for any stupid mistakes!
xo shinyumbreon