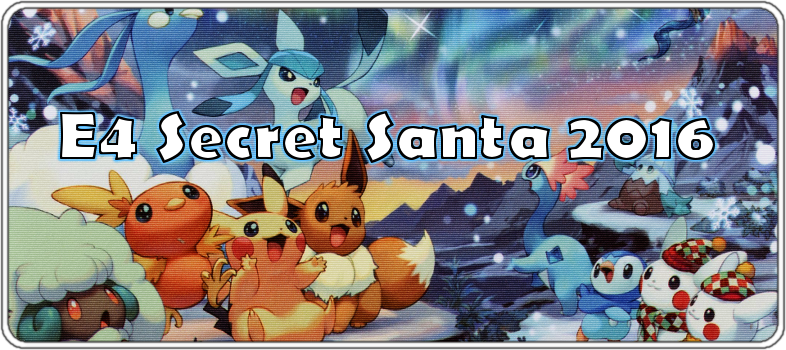 Hello! And welcome to E4's Third Annual Secret Santa! This is a site-wide favorite that I know a lot of people look forward to. Every year we have surprises, triumphs, and a whole heck of a lot of community bonding. Lets all work together to make this year another success!
Rules:
In order to participate you must:
-Have at least 50 posts
-Have NOT failed to send in a prior Secret Santa event (We have a list and we are checking it twice)
This year the setup is as such:
-Two Pools: International and US-Only
-US-based participants are free to participate in the international pool.
-The name of the pool identifies where you are willing to SEND to. All are encouraged to do the International pool. That is the most fun, but we understand if financial or practical limits prohibit as much. Still join the US-Only pool and don't feel bad if that is your situation!
-Registration will be open for two weeks. On November 14th at 10:00PM EST registration will close. Assignments will be given out appx. 2 hours later.
-Participants have three weeks to come up with their gifts. All gifts should be shipped by December 7th at the LATEST.
-Early shipping of gifts is encouraged. Holiday shipping is highly unpredictable. We usually have gifts arriving until late January.
-The value range this year is $20-25. Gifts must be at least this much, but we will not stop those who feel like exceeding that value. Having a minimum value helps everyone feel they are getting out of it what they put into it. It sucks to send a $25 gift and get a base set weedle in return. Be considerate.
-If you are unsure what a good gift looks like, HERE is a link to last year's photo thread. You can see how well different gifts were received and possibly get ideas of your own.
Some additional rules:
-If anyone is caught scamming through this event, they will be permanently banned immediately.
-No fake cards.
-Alters or atsy cards can be included but should not be factored into the value.
-No cards at below Excellent condition.
-All members must include a drawing of a pokemon with their gift. This is not optional. It's a blast.
How to participate:
-Post here or PM me that you are participating and which pool you are going to be a part of.
-PM me your shipping address, favorite pokemon, and general collecting interests.
-At the end of registration, I will send out assignment names and info.
-Begin shopping around ASAP.
-Ship to the address provided by December 7th.
-INCLUDE A DRAWING OF A POKEMON.
-As things arrive, feel free to post them in the E4 Secret Santa 2016 Gift Photos thread located HERE: (Will Insert Link After Assignments Given)
**REGISTRATION:**CLOSED
US-ONLY Pool:
Not Zelda Gilroy
oldskoolpokemon
joetehman
tony
tenaciousm17
areestee
INTERNATIONAL Pool:
churlocker
ozenigma
gottaketchumall
e2d2
RayquazaTCG
fourthstartcg
milhouse
shizzlemetimbers
nauticads
pokemonsyndicate
guangsta
gemmintpokemon
kubek
thorgene
xzini
pokemanz
Quuador
thetropicalwoodsman
smpratte
poketrade
acebren
viral
dipzy
EnlightenedBulbasaur
PokemonTrader
Charchu
skinst
aj
xgav1337x
Dragontype
jjnoriega
swolepoke
woolsluk
MartinCollects
killerred09
Selodin
NOTE: Don't see your name but thought you signed up? Message for clarification on what details are missing to properly register you.
Bonus Prizes?!
In an attempt to encourage participant follow-through and make the event a little extra special, we will be wrapping up the event with a special competition. At the end of January, all gifts will be pooled together and put to a public vote. The top three gifts, as determined by you all, will be given prizes! More information on this special feature will come as the time nears! Be thoughtful with your gifts and do all that you can to make this a special time for everyone involved!
Milhouse Edit: I will be giving away some really cool prizes for this Bonus Voting.