That's a binder page if ever I saw one!
Nice spread of eras there!

WOW! Pyroar finally getting the respect it deserves!
Reminds me of a tarot card!
I was searching for Pokemon artwork on the internet for some drawing inspriation and saw a few Japanese posters on eBay that are pretty cool:
Not sure if the person selling these is the actual artist but the eBay link is here in case anyone is looking to buy a set!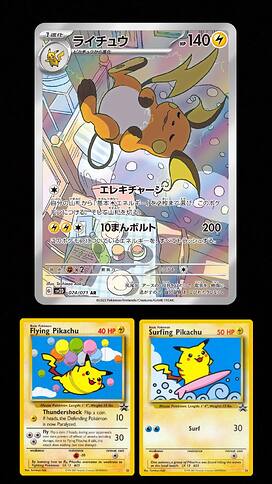 my boy Raichu is getting an AR in the New Japanese Set Clay burst!
i love that is by Toshinao Aoki who did the old flying and Surfing Pikachu cards. now we have here a Flying/Floating Raichu


what's this rufflet from? I don't think I've included it in my collection, but DANG! It's cool.
This is the site of the actual artist/s and it's slightly cheaper there too ($50 per print + I paid $9 shipping when I bought some pins from them).
Some other neat prints:

Some really cute hanafuda cards someone has designed. I saw some plastic sheets being sold on Ebay and was trying to see if they were official (figured they weren't as you had to cut out the cards yourself) and found the actual artist's site.
The Hoppip to Jumpluff design is so cute