That is in the UK Ebay I am guessing? And right now it may seem these will be worthless because there are so many. This point of view is flawed, do not under estimate the sheer demand for exclusive Pikachu cards. Your point of view can change overtime and does not exist in just one period of time. I feel the same about certain cards as well, but I am proven wrong again and again. Example: Special Delivery Charizard, Evolutions Charizard, Full Art Charizard from CP, even Red's Pikachu from the 20th Anniversary. Talk about saturation… Scott will tell ya.
STILL with the MOST GRADED Pokemon card in existence: over 10K graded PSA 10: Charizard Vmax from Champions Path still sells for a pretty penny.
Yes im in the UK. The value of this card raw is now 1 percent of its peak so cant get much worse. My brother loves this set and has watched and graded since the first card came out and we both agree that the second release damaged the card massively. 100000 only released is nowhere near the true number. Ive got 20 booster boxes of champions path in their cases still. Bought at £52.50 ber pox before release date. The only saving grace on pikachu is that the first run has a different copyright date on it if kept in the original wrapper. They are vastly rarer than their counterparts. I actually searched through ebay to check the ratio. Took a while but i know. Feel free to buy if you want its your money.
As I mentioned before in the replys above, I really don't think there is value in the previous release fro the 99.99% of collectors. But again I am not 99.99% of collectors, I am only 1 man with 1 income lol.
I collect and sell niche. Definitely a difference between the 2 for myself and others.
Really? I had one of those but sold it for $100 once I found out it was getting reprinted.
I agree with @Slade on this. Also, remember just how little English promos there are. It's Pikachu and it's part of a little set. Even if it's printed into the ground like Illustrator charizard, give these time, someday demand, I believe, will increase.
It is English but a even rarer version lol a UK exclusive. Completely agree
Guys everyone can do as they wish. Listings keep going higher and higher so its not for me.
409 now 440.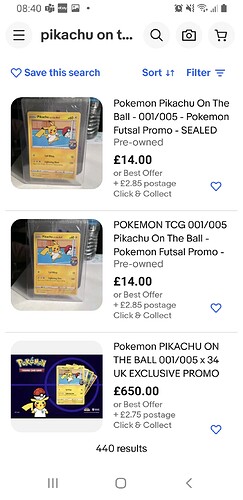 I am having a hard time finding any of these for under $40 now (shipping included). Large lots seem to be gone. Just reflecting on what one month of demand can do to a release like this.
Exactly. I bought a bunch at $23 and sell them at $50ish
Sealed copies (in the uk) up to around £21-£22 from their lows of £13-£14 nearer to release
Clearly a very popular card.
Not to mention all the USA demand
Yep. It's moving pretty quickly. Just 1 month ago you could find people selling bricks of 20-30 for £15 a card on facebook marketplace. Now there's no-one with large quantities and the ebay listings are raising in price