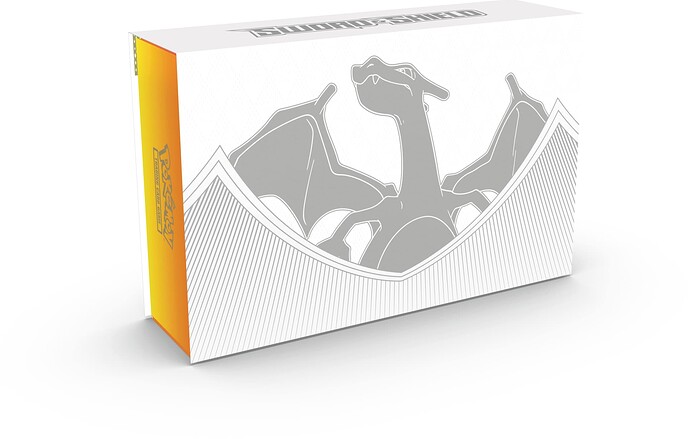 Charizard Ultra Premium Collection
Any thoughts? Pokémon loves them some Charizard! This one might bring the scalpers back out of the woodwork, haha.
White and orange just screams premium! €$£$£¥¢
I know I'm usually in the minority, but I generally like Pokémon's white box designs. I think they look clean and modern (e.g. the Brilliant Stars ETB, which I know many don't like, haha).
I like the box design, kinda dissapointed it's charizard but I'm looking forward to seeing the cards!
I don't want to be controversial, but I think this may be a popular product when it releases.
…what is this for?
I do like the minimalistic white packaging they've used from time to time. Wish Charizard would move over more often, tho.
whenever i see a new charizard product, i imagine the folks in charge of the tcg at pokemon saying "hahaha money printer go brrrrr"
Same! It sounds like they're coming out with an Arceus one later in the year, so that will be at least a little different!
It looks to just be a one off special product that will have a etched special art of Charizard V, VMAX, and VSTAR. Not sure if "etched" is just textured or if it will be something additional.
Sigh
Another Charizard product? When is Dragonite going to get some love?

I don't deny that Dragonite needs more love, but at least it got the Pokemon GO Premier Deck Holder Collection! A bit of an underwhelming product in my opinion though, especially compared to a UPC.
Ugh another zard product. Every time they make some special zard product it just makes it harder to obtain just because "zard" which I find annoying. It makes collecting somewhat stressful but charizard sells so what can you do.
Im glad they give Charizard some attention, as a guy that grown up playing Red/Blue, I like to see one of the original starters having it's own box after all this time forgotten. I mean, it's been almost 3 days since the last Charizard card released, finally the wait is over. I hope Pikachu is next

Oh my Arceus, my poor wallet
Charizard enjoyers will finally have something good for the first time ever. Those Blastoise and Venusaur people have it too good.
Like many others here, I'm disappointed to see another Zard. Honestly this is why I feel like I'm gravitating more and more towards fan art/communities, the "official" pokemon stuff just feels so restrictive sometimes. There are sooo many creative independent artists making work out there for all sorts of pokemon in all sorts of styles - there's something for everyone, and it's not always the case with official product.
Looks pretty tidy yo me. I like the simple design.
Etch sounds like just textured to me XD
Will be interesting to see how available this UPC will be, if the demand will be there the same as it was for Celebrations UPC. Certainly a very different market currently than during the hype of Winter 2021.
Yeah, for sure! I'm wondering if they'll print this into the ground as an adjustment to last time. It probably wouldn't hurt!