This may not be shocking to most of you.
Evolving Skies has hit $200 per booster box after ~1 year since its release in August 2021. Cheapest BIN prices on eBay are roughly $200-210. Cheapest TCGPlayer listings from sellers with 1,000+ sales is about $218.
TCGPlayer Market Price (October 2021 - September 2022):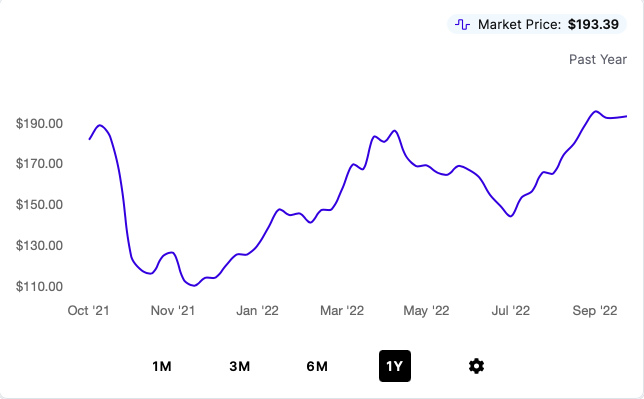 You can clearly see the dip in price around July 2022 from the restock wave. It looks like everyone has bought aggressively since.
My Thoughts: Evolving Skies is a "home-run" product. It is loved by almost everyone who collects English, and the Japanese equivalent (Eevee Heroes) is as incredible if not more so. That said, I suspect that a great deal of sealed product (e.g., booster boxes, ETBs, etc.) is hiding in closets and garages around the nation by modern "investors." I would use caution when purchasing ultra-modern product at this price point.
Financial Disclosure. I do not hold a position in Evolving Skies or Eevee Heroes. My interest in posting about the set is not influenced by any financial attachment to the product.