I, like any true and top-tier zoomer, like to play only the BEST games. The IGN 10/10s. The masterpieces of their eras. True works of art.

Which is why I'm going to show you my absolutely garbage game collection.


---
Intro (Currently Reading)
Next Post
Summary

Bayonetta
Mass Effect
Metroid
Pokémon
Warcraft
---
Like any good gamer girl, I grew up surrounded by the vidyas. My father raised me watching him play RuneScape, letting me beat on his keyboard while he played or with him playing SM64 but making me think I was playing by giving me an unplugged controller.

The first game I actually played was Tomb Raider: The Last Revelation on a janky, early 2000s PC that was still on dial-up. I'm not sure who decided letting a 5 year old with absolutely no hand-eye coordination or the ability to solve complicated puzzles play that game because I never realized I could run in the game and would just absolutely fail doing any jumps. Before you ask, no, I never finished the game, I couldn't even get pass the first level.
My first console was a Nintendo DS Lite I recieved for christmas. That same christmas my brother and my stepdad also got a DS Lite, each with a copy of New Super Mario Bros. that we all played together. We also got a Wii the same christmas, and take a guess what our most played game was… Wii Sports, which the entire family literally played together. My DS is long gone, my Wii surprisingly still being around. Throughout the years my brother and I recieved consoles for us to share and our own. I'm going to cut the reminiscing short, no one needs my life story.
One thing you will notice is that I am… very into handheld gaming

Handhelds in collection:
2 GameBoy Advance
1 PSVita
1 JPN 3DS XL
1 NA 3DS XL
2 NA 2DS (1 broken)
1 NA N3DS XL
1 Switch
Consoles in collection:
2 NTSC GameCube (1 Xeno modded)
2 NTSC Wii
1 Xbox One
Total Games in Collection (as of August 2022): 83
Total Games Pre-Ordered (as of August 2022): 3
---
Shelf:

Section still under construction, excuse the shit formatting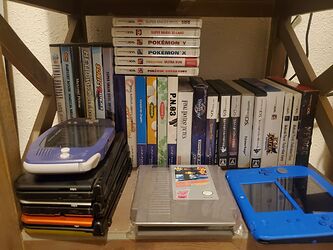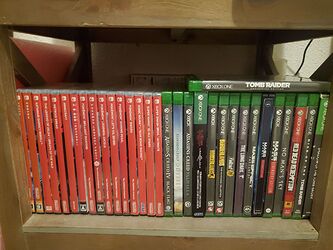 I have a bunch of stuff tucked away into boxes, mainly wii, vita, and 360 games. Not that there is really much within those bits to be put out.
---
---
---
I have an old thread I'm going to abandon, it just details all my Metroid stuff. While I am still doing all of that I'm not going to update it anymore and if you want to see any progress for that stuff it'll be updated in this thread from now on.
---
Imagine collecting PTCG, could NEVER be me