Your ability to recognize a tortilla and cheese from a restaurant by just a picture is an inspiration
yeah, their food is v memorable!
next time you're in Richmond hmu
WAIT. Candle do you live in RVA??
indeeeeed
how else am i gonna recognize a casadilla lmaooo
YO! Let's grab lunch or something
shoot me a PM. ditto for anyone else local
These are some great thoughts.
Extremely grateful to the chicken king @Tapp who was able to help me get a signed card for my newborn son. Thank you buddy truly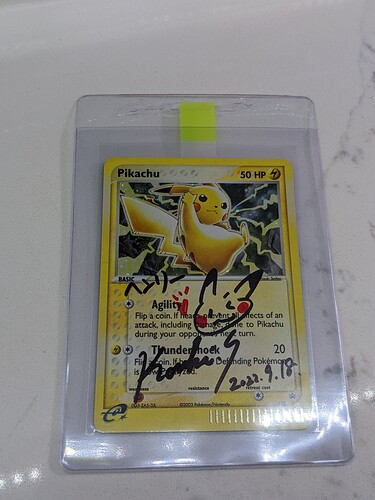 Strange, I thought people's kids were only named "Trainer" and "Pikachu" and "Satoshi" these days.
All kidding aside, that's a beautiful card! The effort that people from e4 put in to make sure people got signed cards was incredible.
I'm in love with the little Pika wink


It actually says "to ebay"
Jk but really if you can't read then you're not on track to being ready for world's 2023. I'm sure Henry agrees
Such an iconic card. I remember getting these in blisters at target as a lil kid. Such a cool art