I've been collecting Kidrobot Figures for a little over a year now! Is anyone else here into Kidrobot?

My entire collection

6" Zoidberg, got it for a great deal too.

Another view of my display case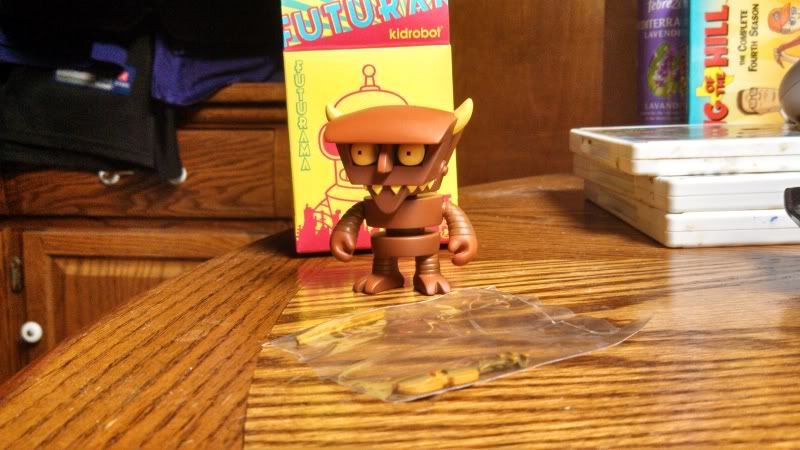 The incredibly elusive Robot Devil. 1/96, the rarest of the futurama figures. I thought I'd never get one, and then, while searching for Zoidberg, I randomly pulled one! I only need a 3" Zoidberg to complete my base futurama set!

These are Alternate Universe Fry, Leela, and Bender, all custom painted by my girlfriend! Still need to get a Zoidberg for her to paint!

Hypnotoad, I wanted it since I started collecting. It was a SDCC Exclusive limited to 1000, and was crazy expensive. For my birthday this year my girlfriend bought it for me, I was in complete surprise, loved it lol. And than a month ago, for some reason kidrobot decided to re-release it on their website with absolutely no differences for only $39.95. It's like Nintendo re-releasing all the Lottery Promos…

Slurms, this was the first chase I ever pulled, I was so excited! Also the second rarest figure in the series(Right behind Robot Devil)

6" Wooden Bender, also a birthday gift from my girlfriend!

My first South Park Chase! I only need Satan(rarest of the base set), Cartman(common), Kyle(common), and Officer Barbrady(common) to complete the base set I believe. I got lucky with my south Park pull and got hardly any doubles, as I did with futurama(have doubles of almost everything but still no Zoidberg…)

Towelie, another south park chase. It's a really really sweet figure, it actually feels like a towel lol.
Their is still a lot of pictures I haven't put up, and i still have many many figures to collect, I am almost finished with Futurama and South Park though, South Park will be a bit more expensive because two of the SDCC exclusives go for quite a bit of money. I'm hoping after I complete both sets, which will be very soon (especially futurama), that a series two of both south park and futurama come out. If not I'll start collecting the simpsons though lol
forums.kidrobot.com/viewtopic.php?f=25&t=206858 - My thread on the official kidrobot forums! See my collection being built from start to now!