Are there any other Formula 1 fans here on UPCCC?
What are your thoughts on this year?
Not really into it anymore, use to watch back in the Schumacher days.
I hate to admit it but after Dale Sr. passed away on the track over a decade ago I gave it up. Broke my heart. I have a pretty nice collection of pre2000 collectible cars as well as card sets from the late 1980s.
One of my favorite cars is an original #3 in the blister pack with the chad still in place:)
Do you mean gave up watching any sort of motor racing in general? That's a shame.
Formula 1 hadn't had a death since 1994, and the death of Ayrton Senna was the tipping point for the sport in terms of introducing extremely strict and drastic safety changes. They have worked really well too, sadly last year Jules Bianchi had a very nasty incident at the Suzuka track in Japan and whilst he didn't die on the track, he died this year as a result of the coma and injuries from it.
It's certainly safer now. Technology and rule changes have helped.
This topic has gone bit old already but as I found a topic about something that I love, I had to reply!
I love F1 and motorsports in general so much, together with Pokemon it's my passion really. Been loving it since I was a kid and watched Schumacher & Häkkinen fighting back in the day. I never want to miss a thing, I always need to see everything

I've also traveled into races 3 times. I went to Belgium in 2013 and then to Italy in 2014 & 2015. I wish I could go again this year but I really can't be sure about it yet.
Even though I'm Finnish, I'm supporting Felipe Nasr. I've been his fan since he was in British F3 and it's been amazing to watch his career and see him making his dream come true in F1. Sauber is not the easiest team to be in but I think he did a great job last year with the car Sauber had with basically no updates during the year. I've also met Felipe a few times and got some connections with him which is something really amazing that I'm really thankful for

Recently there was my question asked from him on the newest F1 racing magazine and he recognized me straight away so that was also something incredible.
And about the 2015 season, it certainly was not the best season in general but there were some great races too. Australia (for me it was a great race as Nasr had such a great debut race there), Bahrain, Britain, Singapore, Russia and USA were probably the ones that I liked the most. I'm happy that Vettel managed to steal victories from the Mercedes guys at least a few times. I really hope it will be much more though between Mercedes and Ferrari this year and I really would like to see battles there at the front. Hamilton had quite an easy championship win last year and I wonder why did he keep losing to Rosberg in all the races afterwards after his championship was secured. It felt like he didn't focus into it that much anymore, but I don't know really.
At the moment I just can't wait for the start of winter testing and seeing all the new cars and everything. That's always the thing that makes me realize there is not long to go for the new season to start

There really isn't much footage about testing in general but I keep following teams, drivers, sites and journalists on Twitter to keep myself updated about all the things.
I am very jealous that you have been to 3 races. Belgium is easily in my top 3 favourite races, I am absolutely going to make it to Spa one day.
I think Nasr took everything out of the Sauber he possibly could last year, I think he may be one to watch over the next few years to see if he gets into a good team. I'd put him at the same level of Sainz, both have a bright future in the sport if they play their cards right.
I think Rosberg dominating the season after USA is very telling as to how Hamilton and Rosberg both work. Rosberg seems to show his true skill and determination when he doesn't have the pressure of the WDC on his shoulders, he is free to relax and show us why he is WDC material. Hamilton on the other hand, whilst in the top 3 drivers on the track skill-wise, it showed he can go to pieces and spit the dummy a bit when he isn't in the position he wants. If something goes wrong he is very quick to try and call it quits and I think after winning the WDC he stopped caring as much and just wanted to go home.
I REALLY cannot wait for the 2016 season. My #1 want is just someone to bring it to Mercedes, I don't want to go into every race knowing that there is 9/10 chance it will be Merc/Merc/Vettel every time. I am super excited to see how Haas do, I have become quite a big Grosjean fan over the past few years and I just want success for him.
Do you watch on TV or do you stream it?
I can tell you that Spa is an incredible track and it will be something you won't forget if you get to visit there @milhouse

It's definitely worth it and the track is even more stunning when you see it with your own eyes and the height differences are actually so much bigger than what you can see from tv. I was sitting at the Kemmel straight and the feeling there was just amazing, it was full of people as it's a great place to watch as cars go past you with over 300 km/h *-* There is a screen too in the middle of the straight so it's easy to keep up with what is going on. And you can go sit in there with the cheapest tickets even (general admission ticket is the cheapest and in Belgium it offers many good places to sit in). The only problem with it is that finding a place to stay might be complicated as the track is located in the middle of a forest and the closest places are basically small towns there. Me and my friends had lots of luck finding a place to stay from Stavelot which is very close to the track. Surely camping area is one way to stay but… If you want to sleep well and get comfort, it's really not the place. I've heard the F1 camping areas are always a non stop party

The difficulty of finding a place to stay is the reason why I went to Italy instead in 2014 and 2015 because Milan is very close to Monza and as it's a big city there is so much easier to find a place to stay. But I definitely want to go back to Spa one day, hopefully soon.
I really agree with you about Hamilton, he is definitely in the top 3 best drivers right now but he gets really moody easily and it all affects his results and how he does on track. Haas will be interesting to watch as they have been working on with their project for long time and got some help from Ferrari too. I won't be too optimistic about them though as we have seen in the past years how difficult it is for a new team to start from zero but I really hope for the best for them, it's always great to see new teams coming to the sport.
I always watch everything from tv, I have a subscription for a channel package which includes the channel that shows F1 here in Finland. I just prefer to watch from tv screen really and the Finnish coverage is really good. The price I pay is very reasonable too so I'm happy with the package I have. I do stream other series though. I like IndyCar for example and they don't show it on tv here so I always watch that via streaming.
I much prefer to watch on a stream at the moment. I can hang in the chat room and talk with the other watchers, and if there is a boring part of the race or a long safety car it's nice to joke and discuss the race.
Do you think Hamilton will win WDC again this year? If Mercedes are as dominant as they have been I just really hope that Roserg can get a title. He probably won't ever be in a car THIS dominant ever again, nobody will really.
My favourite team is Williams and I just hope they can make some advancements and get out of the perpetual 3rd best team they are in right now. A race win or 2 would be wonderful. Bottas is one of my favourites and watching him get multiple podiums in 2014 with no win was heartbreaking.
@milhouse I think Hamilton is going to be strong again and if Mercedes will again be the fastest car I think he will win the championship if Rosberg can't take over him mentally. I really hope other teams can't enter to the fight and Ferrari seems to be quite optimistic about being a winning car since the first race even though winter testing hasn't even started yet. If Ferrari will be strong then Vettel will have a good chance to take the title too. Räikkönen is a big mystery for me, it hasn't been easy for him since he went back to Ferrari but I hope he could get back to his normal form too. I think today's cars probably don't suit his driving style that much.
I also have lots of sympathy and respect for Williams and I really hope they could get a win or two, too. They've had few good shots in the past 2 seasons but something has always happened in the end. I feel like the team starts having a panic or something when they realize they have the chance because on those moments there has been strategic errors etc. I really hope it goes well this year and they really deserve to have that win as they managed to make such a big step forward with these new regulations.
Oh, and Red Bull, you can't really forget about them too. They might make a surprise. Meanwhile I'm expecting McLaren to get a little bit better with their new Honda engine, but I doubt they'll be fighting for the podiums yet. Another year which is going to test Alonso's nerves

But to be honest I really would like to see Alonso winning races and fighting for championship again because he is such a great driver.
Being from the UK I basically watch every Grand Prix that's on as its on one of the main channels every Sunday, whilst it's a great watch I don't understand how fans can't get frustrated that the constructors championship is a thing, try should all be in the same bloody car otherwise for some teams they are literally never going to win because the cars they are driving against are too superior (looking at you Mercedes and ferrari)
I kinda get your point but the thing is that F1 has always been like that, there are big teams, there are small teams… What annoys me in the situation is how all the price money etc is divided between the teams, like Ferrari gets the biggest amount of cash for just being Ferrari and so do the rest of the big teams. Smaller team's don't get much even if they make success and they have to count on the price money they get from the constructors points. I'm saying this as the money plays a big part on the car development and everything the teams do. It's something that has to be fixed but in F1 it was always this way. It would change as a category if it took similar approach with feeder series like GP2 and GP3 where all the teams have same cars and the difference comes from the drivers and engineers who make the set ups. The thing is, if they all had the same car, someone outside of the teams would design the car and the thing of car design and everything involved in it is what makes the category what it is. If there'd be a category like F1 but having all teams with similar cars it would be probably called GP1 or something, going with the same branding as feeder series.
Of course it would be better for the sport if there were more teams fighting at the top and already with 2 teams up there fighting with each other the things can get very interesting. The most amazing championship fights have been between drivers from two different teams (if you don't count fights like Senna / Prost). For long it has been a thing that some teams find the right way better than others and obviously the bigger ones have an advantage, but we have to remember how Williams has bounced back from having very poor seasons to be one of the best again. Sauber too has had great seasons with very limited money, 2012 for example. Perez almost won a race for Sauber and took various podiums. Oh and that strange moment of Maldonado winning a race with super poor Williams during the same year…
But I have to say that I'm tired of Mercedes' dominance and I just wish there would be an end for it this year. I'm afraid that's too optimistic to think of, though… Counting on Ferrari to be the ones to challenge Mercedes if it happens.
Finally!

But there is a sad side of this story too… RIP hasmaldonadocrashedtoday.com

Who is going to entertain us now?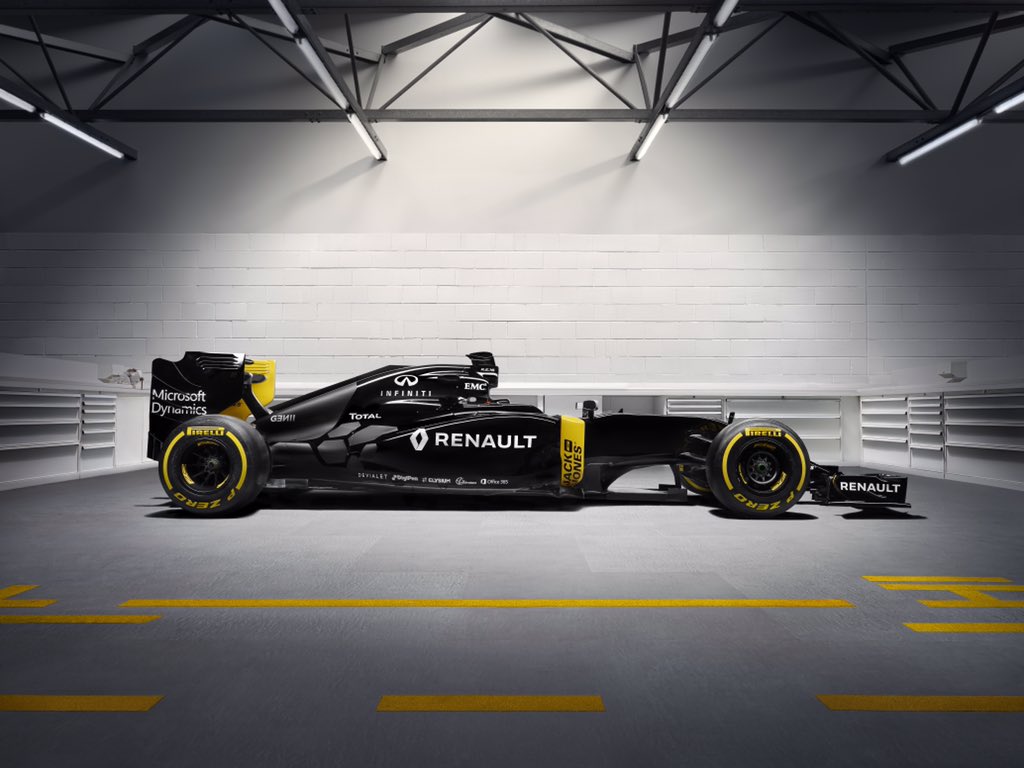 I'm little bit disappointed with that livery to be honest, I expected something closer to the livery Renault used to have back in 2010 for example. Of course it will look slightly different when it will be on their actual car. I don't know but I feel like the teams don't focus as much on their liveries as they used to do in the past
Watch Manor slowly becoming Mercedes' B team @milhouse
I actually loved the Red Bull livery since they showed it, it's nicely vibrant

Haas' livery is bit odd to me, I mean it looks nice but it's just not well combined together. Front looks like old Marussia and back reminds of old white Sauber livery or even HRT. Renault is disappointing, I expected something like bright yellow from them like they used to have in the past. In general Red Bull and Mercedes are my favorite cars so far if looking at the whole design and everything combined together. I'm still waiting for that new Sauber though… But it looks like they are going to keep basically the same livery as last year.
I'm been positively surprised about the testing so far even though it's only been 1 and half days but for me it really looks like Ferrari has taken a big step forward with the changes they made to the car. They were probably the team to make most changes (ofc we can't know about Sauber yet as we are yet to see the car) they knew they had to be aggressive if they want to catch Mercedes and that's what they have done really. Of course we really don't know what is Merc doing, yesterday they ran over 150 laps with no problems at all so they are super reliable and probably aren't taking everything out of the car yet. Red Bull has been surprisingly good too and it looks like Renault is facing some problems, failure yesterday and yet another one today which seemed to be an engine failure as a fan posted a video to Twitter with Palmer leaving the pits and soon after he went slowly and there was quite a lot of smoke coming out from the rear of the car.