Curious to see what non card/plush items everyone has in their Pokemon collection (coloring books, mugs, …?)
There are lots of clear files and binders that feature exclusive art - I mostly collect Arita-illustrated items and I love these two, the Lugia on a clear file and Mewtwo + starters on a binder. Both were released mid-2000s.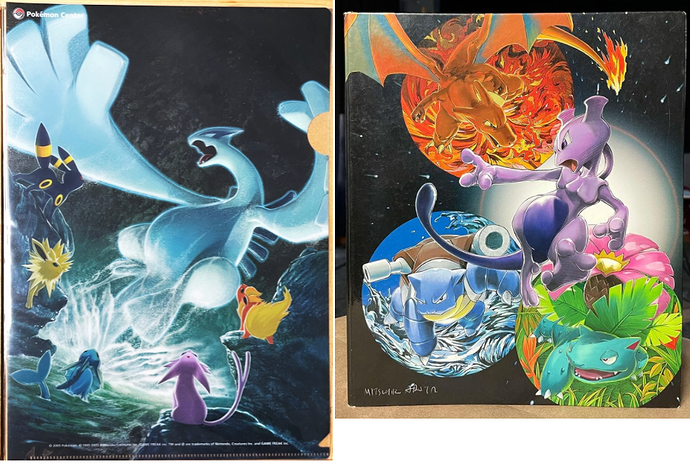 I feel like I should have been tagged here based on premise, but yeah too hard to pick a single one item.

ill plug my instagram if anyone wants to see more as well: www.instagram.com/thadizz/
Back when I played the TCG, I had a bunch of the cool Japanese deck boxes (like the sketch ones and Japanese release ones).
Thankfully I still kept my coins since they aren't in the best of shape. I plan on trying to rebuild the deck box collection though
Also wanted to share here these metal figures, love the different colours and how they look when there's a lot of them


These are sick! Where are they from?
@dizzle24, ah another man of culture I see

Do you happen to know the names of those different cyndaquils/where you got them??
I really love weird Japanese official Pokemon items. A wooden toothpick case with fire extinguisher Pikachu on it and a book with buttons that make sounds to teach hiragana to kids based on Gen 4 pokemon are some of my favorites I own. Old comic books are cool too, love seeing such different art before the designs were all totally finalized
I do, but theres too many to name there and as for where I got em its been all over the place, so no one avenue of purchasing
@joponnes,I have never seen these before - those are really cool.
They're Metal Collection figures. They've been making them since 1997 and have had sets for all generations. Unfortunately, it's primarily the gens 1, 2, and 7 you'll come across usually. Which is especially a bummer for me, since the Metal Collection Seviper figures are the only Seviper figures I'm missing a.f.a.i.k. - minus a Chinese knockoff that's sold out everywhere. I currently have the silver Metal Collection Seviper figure incoming after having searched for it for about a year, but I'm still looking for the bronze and golden ones.
Greetz,
Quuador
Heh, was just coming to comment but @quuador beat me to it again

as far as i know the company that makes them is called Kyodo and if i've understood correctly they are being sold in tiny boxes (i only have one box with meowth as box art) as individuals, i've at least found info that one figure costs 100 yen so would imagine that means they are being sold one by one, but can't really tell when the page i've found my info has been updated, also don't know if you know what you are getting when you buy one or if it's a surprise
I collect a lot of different types of Pokémon items from TCG to plush to vintage sealed toys to CIB games etc. But my favorite collection to put together and to look at is the TOMY figures. I would one day like to co tinue on to future generations, but they turned me off by not doing 100% of Pokémon from generations 3+, and I never can decide what to use as substitutions for missing mons