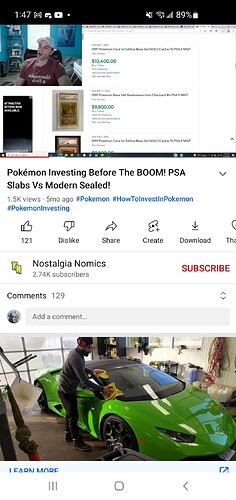 This isnt intended to be a hit piece on anyone, but i think its important to address it!
When i first watched this video in April, when it came out, i thought: this is too zoomed in. Ill explain what i mean in a moment. Basically, this video is comparing the price trajectory of vintage slabs over the last ~5 years and sealed modern, to discuss how modern was the better investment (this example being 1st base Zard PSA 9 & UPC Celebrations; better meaning larger growth %). Without going too deep into it, i think the analysis used here was flawed. The reason i think it was too zoomed in is because it was comparing a 5 year trajectory of a 20+ year old card with a brand new anniversary product (which ironically, one could argue has high value due to the reprint of base charizard in the set + the gold card). Anyway, what lead me to post this was seeing that PSA 9 Zard 1st seems to be consistently selling over $20,000 USD now, only 5 months later, where the UPC is around $450.
This isnt to say whether one is a "better investment" than the other, but rather, to draw attention to how the market changes over time. It begs the question: why was Charizard 10k? Why is it now back up at 20k? Essentially, what makes Charizard move like that? What makes the UPC move the way it does? I feel like this is an important data point for understanding the Pokemon market, especially in terms of modern vs vintage. I dont have any answers on why what moves where, but its a discussion that i think could be very helpful for many people to learn, including myself. So if anyone wants to add any thoughts or observations, pls do so!
video in question