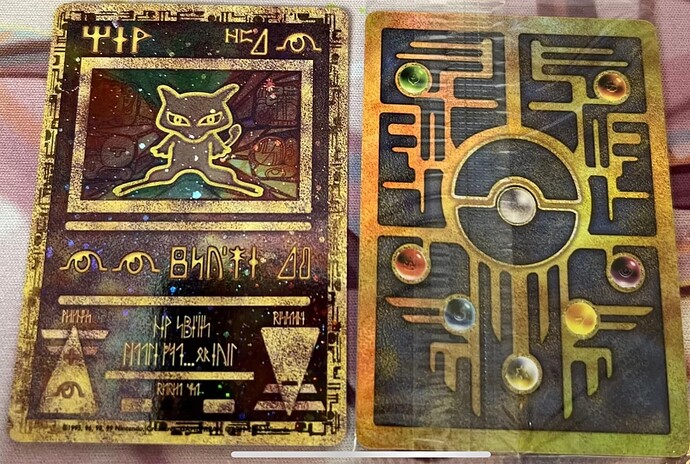 (stole the image from a random eBay listing)
I think we don't talk about how enduringly cool Ancient Mew is. I would like to discuss it now.
Ancient Mew is a totally unique card with absolutely no rival or equivalent. It is unplayable by design and instead prioritizes an unprecedented art style to depict something mysterious and unknown. Very few Pokémon cards have this sort of innate personality. For as unique as it remains 20 years later, it's wild that a card of this nature was released in the far less varied era of the TCG it comes from.
It was distributed in enormous quantities and individually sealed worldwide, meaning the card is broadly accessible and remains intact. You could get an Ancient Mew today almost as easily today as you could upon its release. Nobody is denied an Ancient Mew.
It has multiple prints and variants, including an error version, supporting its own subcollection of cards. From vintage prints to modern prints, there's quite a number of different Ancient Mews to collect.
As an individually sealed promo, all its packaging worldwide is collectible. Each region is distinct with their own inserts, again supporting its own subcollection of cards. There are multiple ways to collect this card.
The card is prominently featured in a movie, which was the first time a Pokémon card was given some kind of canonical storyline and used an inter-media sort of way. This makes the Ancient Mew card in the real world a symbolic part of Mew's universal lore. That rules. The card itself represents a relic that actually exists in the Pokémon world.
It's just really freaking cool. This card was mindblowing as a kid. I think it is still kind of mindblowing today. Just look at this crazy thing. This is not what Pokémon cards look like. There are no others that look like this. It is not a concept they ever revisited or imitated in any way. Ancient Mew is just a singular oddity.
I wonder what made them put so much effort into this idea this one time and why they've never done anything comparable ever again. Today they are really pushing the boundary of what Pokémon card art can look like, but there is still nothing that breaks the mold as much as this one. Wild stuff.