In this thread I will showcase the early history of Pokemon cards and their release in Japan. There is also an in depth look at the different variations of the Pokemon Booster Packs and the Starter Decks as they relate to the first release of the No Rarity cards. This will be an expanded and more in depth article that stems from my previous thread I started in 2017. For best viewing of sources I would recommend Google Chrome so you can auto-translate pages.
Dewgong card on display at the Tokyo Pokemon Center 1999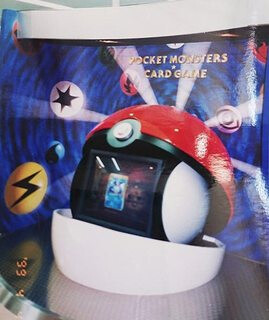 ---
1995 November Tsunekazu Ishihara launches Creatures Inc. on 8th November 1995.
Under the direction of Ishihara, the production of Pokemon Cards begin and are developed by Koichi Ooyama and Takumi Akabane.
1995 December Masakazu Kubo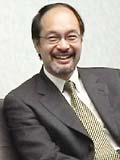 "Masakazu Kubo (above), then Deputy Editor-in-Chief of CoroCoro Comic, met Pokemon in November 1995… Ishihara visits the CoroCoro Comic editorial department and goes to Kubo for promotion of Pokemon video game…" (Line 30)(Original Source)
This was a very important meeting in terms of Pokemon history as the CoroCoro comics served as the main advertisement and information distributor for the majority of Pokemon's releases including the games, TCG, toys etc.
Shogakukan the company that owns CoroCoro comics was the sole license provider for Pokemon. Any license obtained by external companies was distributed by Shogakukan and the relevant Pokemon head. i.e. Ishihara would be consulted for Creatures licensing, Kawaguchi for Nintendo game sales and Tajiri for game development.
Pokemon licensing flow chart from Pokemon Story (2000, Kubo)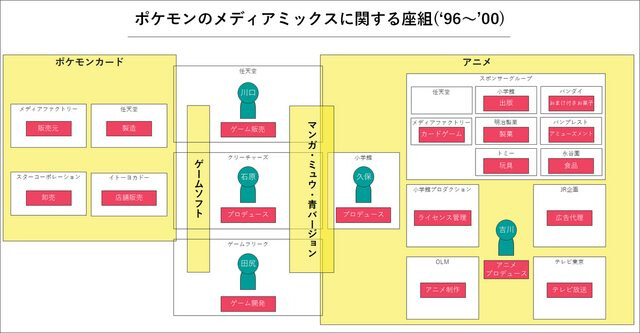 Translated portion relating to Pokemon cards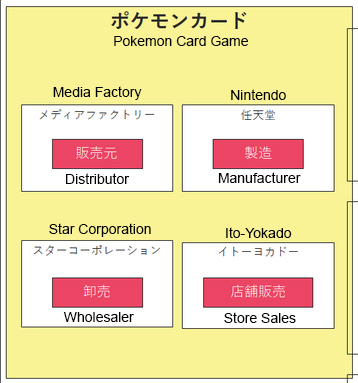 ---
Test Cards
Link to Test Card sub-thread:
---
1996 January Tetsuya Iwasaki


Tetsuya Iwasaki was in charge of New Business and Product Development at Star Corporation, which later handled the initial distribution of the Pokemon Card Game in 1996. He worked at Star Corporation from 1994 until 2004 (link)
In mid-January 1996, Iwasaki went to Recruit, where he used to work, for a New Year's party. His purpose was to collect information for any new business leads. There he learnt about Pokemon's new GameBoy releases coming in February and also heard that Ishihara was developing a Pokemon card game similar to Magic the Gathering. (page 8, line 30). At this meeting Iwasaki was offered to distribute the card game, interestingly at the time all other distributors refused. He answered that he would consider it upon further research. (page 9, line 15)
Test card rules/attacks are finalized, final artwork is still being developed.
1996 January - March
Iwasaki returned to Osaka and purchased the English version of some Magic the Gathering products to conduct his own research. At this time Magic the Gathering was only available in English, Star Corporation along with Hobby Japan actually distributed the first Japanese language Magic sets (4th Edition) in May. (page 9, line 15)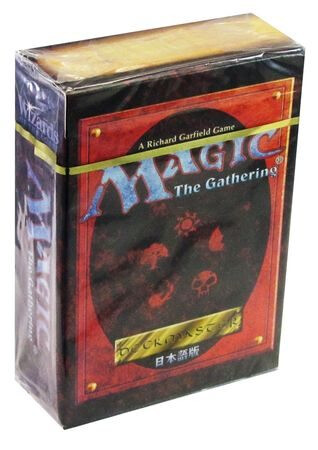 1996 April
Iwasaki became Manager of New Business Development Office at Star Corporation in April 1996 and decided to distribute Pokemon Cards. Iwasaki contacted the people he met at Recruit earlier in January and confirmed that Star would distribute Pokemon cards. Iwasaki signed the contract that stated that Creatures would be the Card Developer and Star Corporation the Wholesaler. The company responsible for manufacturing the cards was not yet chosen. (page 9, line 35)
Star Corporation is a Toy Wholesaler started in 1949
In 1996 they had less than 40 employees
99% of their business was Nintendo products
1996 annual sales of 5 billion yen ($45millionUSD)
Star Corporation amounted to about 2% of Nintendo's overall sales
1996 June
It was decided that Media Factory Co., Ltd. would manufacture the Pokemon Card Game. (page 9, line 35)
1996 July
Ito-Yokado Co., Ltd. a Japanese general merchandise and department store opens 29 new concept corner stores called CoroCoro Hobby Plaza. The intention is to sell toys, stationery, products, games, plastic models, stickers, etc. featured in the CoroCoro issues. These CoroCoro Hobby Plaza corner stores would later sell Pokemon product including the Pokemon Card Game.
Circa 1998 *heavy breathing*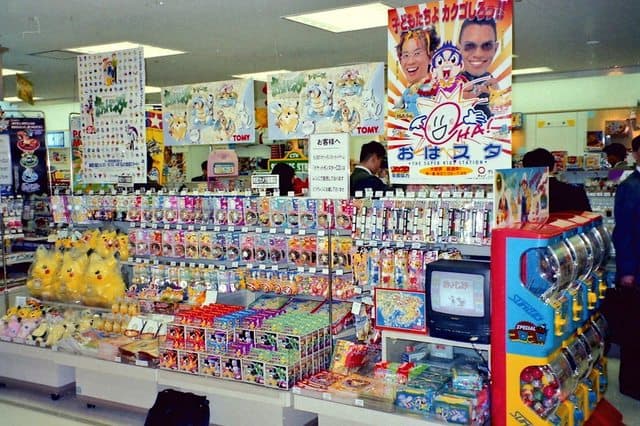 Check out the Booster Box and Deck displays!

The first appearance of Pokemon cards appears in the August 1996 CoroCoro Comics released 15th July 1996. It features prototype card designs.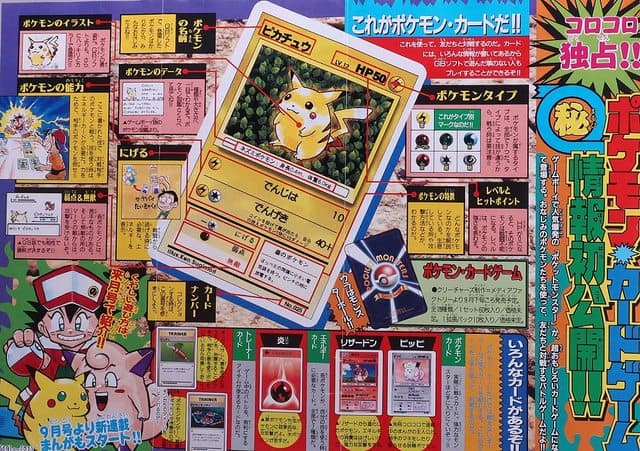 1996 August
Ito-Yokado increases the number of CoroCoro Hobby Plaza stores from 29 to 75 in August 1996.
CoroCoro again hints at the upcoming Pokemon Card Game release with more prototype designs and the first hint at release in the red panel with the Pokemon card back design "Coming late October".
September 1996 CoroCoro (released 15th August 1996)

On the 23rd and 24th of August Pokemon attends the 4th Next Generation World Hobby fair in Toyko. 63,400 People attended the events and at the entrances and exits a Pokemon Card Game Flyer was handed out to attendees (page 9, line 38). The First Pokemon Card Game Flyer is also the first appearance of Pokemon cards as we know them today and not the prototypes as featured previously.
Map featured in the September 1996 CoroCoro issue

October 1996 CoroCoro issue

The First Pokemon Card Game Flyer

1996 September
In September, Star Corporation started selling Pokemon cards to other toy wholesalers. Initially, only one company in Shizuoka, whose president is a trading card game player, approved the handling, but all other toy wholesalers refused. (page 9, line 40).
CoroCoro Comics features more Pokemon Cards in their October 1996 issue.
CoroCoro October 1996 issue (released 15th September 1996)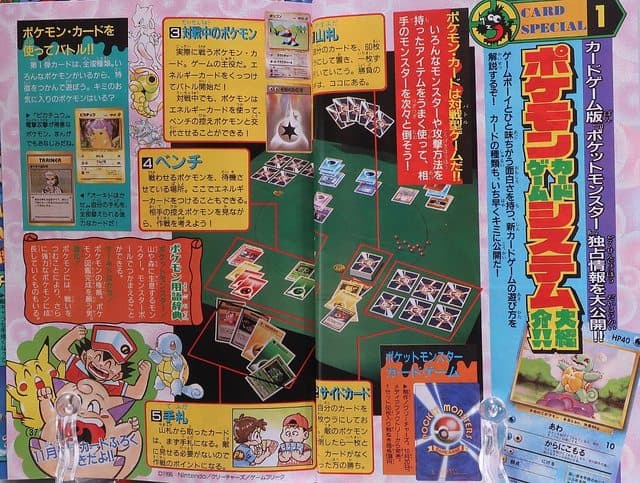 Now we have the first images of the Red/Green Bandai Carddass Vending Part 1 and 2 cards. They are released in late September 1996.
Carddass News September 1996

CoroCoro Comics October issue (released 15th September 1996)

The setlist contains the full 151 pokedex cards as well as other special cards split between both sets, both Green (Part 1) and Red (Part 2). Green was released late September, Red early October. They were available in Bandai's Card Vending Machines.
Bandai Card Vending Machine with Part 1 Display

Artwork display mounts from the Bandai Card Vending Machines

Bandai Carddass Displays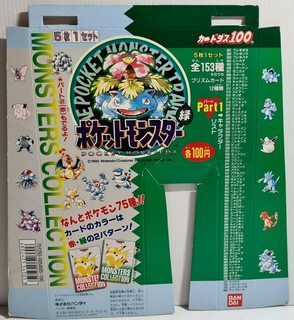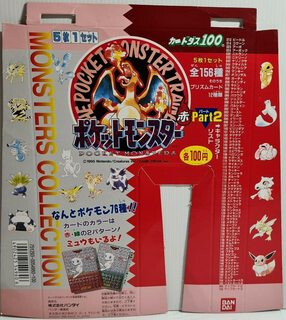 1996 October 15th
CoroCoro Comics released the first Pokemon cards in the November 1996 issue (released 15th October 1996). The two cards are Pikachu and Jigglypuff with glossy card stock. There were 1,800,000 issues of this issue sold putting them at 1,800,000 copies each page 10, line 9. Pikachu and Jigglypuff were chosen since they were voted as the most popular Pokemon in a CoroCoro survey.
CoroCoro Comics November 1996

Pikachu and Jigglypuff (Glossy)

There were a few more mentions in the November issue of the Bandai cards and some addition pictures of the Pokemon TCG.
1996 October 20th
Pokemon cards are released in Japan. Star corporation handled 97% of the initial card shipments. Star distributed the products to their business partners including another wholesaler named Tsukada who sent the product to Ito-Yokado for their CoroCoro Hobby Plaza stores (page 10). By the end of October Ito-Yokado had opened 138 CoroCoro Hobby Plaza stores (page 11). Pokemon cards were not an instant hit and sold little by little (page 10, line 29). But by the end of the year Ito-Yokado recorded Pokemon cards as it's 9th best sales item across all categories (page 11, line 23).
Storefront poster

---
Booster Packs
First I will start with the Booster packs. The short pack booster boxes differ in size and design compared to the normal Japanese Base booster boxes. The main design difference is the short pack box is smaller in size and the Pokeball logo is lower and is not at the opening flap. With current information it is not known whether you can confirm if your short pack booster box will contain no rarity cards. I have found two variations of the short pack booster box but at this time I am not comfortable sharing until I gather more evidence (if you have a sealed short pack booster box please contact me). Short pack booster boxes have been opened before and have contained normal rarity cards.
Short Pack Booster Box Ver 1
Contents: No rarity cards
Status: Unconfirmed
Opened no rarity short pack booster box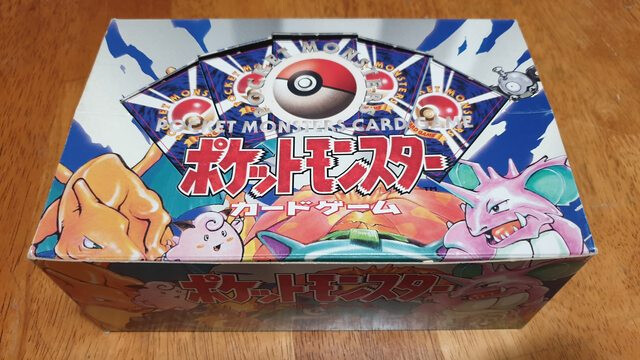 The box above contained no rarity cards*, it was sold circa 2018 opened on Yahoo Japan along with hundreds of no rarity non holos consistent with the quantity found from a booster box. The seller had previously listed the holos separately. Unfortunately I did not save the listing at the time, I purchased this box from a no rarity collector who bought the original listing. For now I would reserve judgement on this variant since readers can only rely on my word at this time until I gather more information.
Short Pack Booster Box Ver 2
Contents: Rarity cards
Status: Unconfirmed
As above until I gather more information status is unconfirmed however version 2 will be the designation for boxes containing rarity cards as posted in the videos above (link)(link).
Long Pack 291Yen Booster Pack Box
Contents: Rarity cards
Status: Confirmed
291Yen booster packs are more likely to be found in this type of booster box with the text FOR SALE IN JAPAN ONLY missing on the bottom of the box.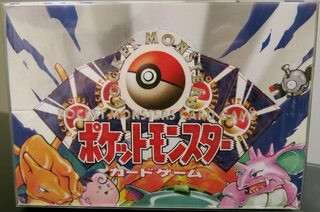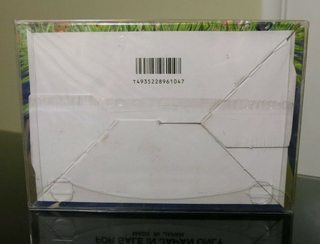 Long Pack 300Yen Booster Pack Box
Contents: Rarity cards
Status: Confirmed
300Yen booster packs are more likely to be found in this type of booster box with the text FOR SALE IN JAPAN ONLY on the bottom of the box.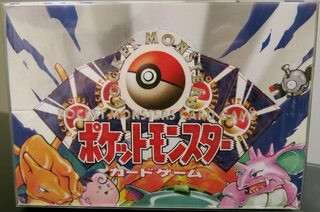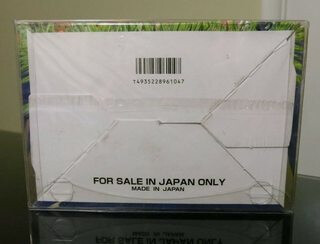 Long Pack 300Yen Black Sticker Booster Pack Box
As above but the story behind these boxes is that they were resealed by Media Factory or a 3rd party to apply a 300Yen black sticker after the consumption tax was increased in Japan on April 1997. Unfortunately I have not uncovered any pictures but it appears in other boxes here is what the seal looks like: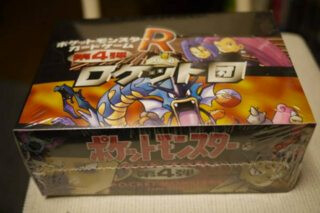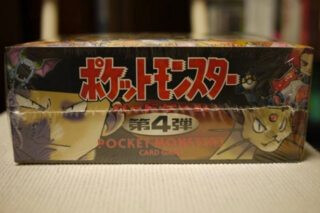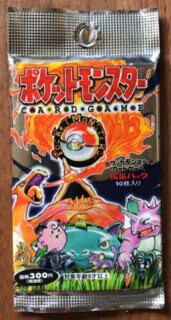 ---
On 26th October a seller in Taiwan listed a short pack booster that was purchased by @acal2029 . The pack was opened and contained no rarity cards. However it looks to have no external variance compared to version 2 as of yet.
Short Pack Booster Ver 1
Contents: No rarity cards
Status: Unconfirmed
"Taiwan no rarity pack"

Short Pack Booster Ver 2
Contents: rarity cards
Status: Unconfirmed
As above no known external difference between Ver 1 and Ver 2.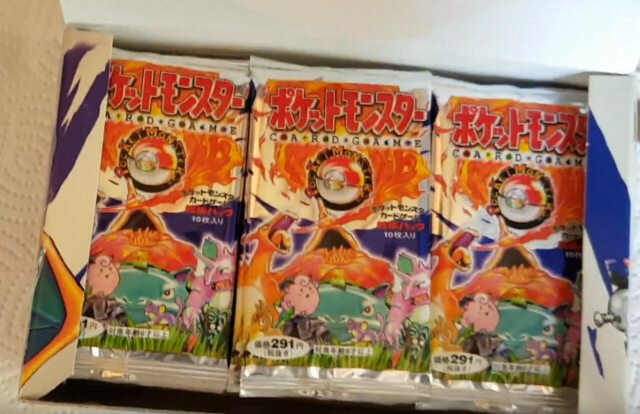 Short Pack Booster Ver 3
Contents: rarity cards
Status: Unconfirmed
@nine posted a variant on E4, this variant has dark print underneath the pack artwork as opposed to the normal silver. It was purchased from Pkonno and contained normal rarity cards. Here are examples of the variant in various documents. (link)(link)
Status is unconfirmed as it may still be possible to pull no rarity cards from these packs. This pack may have been a file copy since it originated from Pkonno and matches product images in print documents. As an example Pkonno has sold a 1997 no.2 Trophy Pikachu that has the same holo pattern found in the 2000 Silver Bible.
Long Pack 291 Yen Booster Pack
Contents: Rarity cards
Status: Confirmed
Long Pack 300 Yen Booster Pack
Contents: rarity cards
Status: Confirmed
Long Pack 300 Yen Black Sticker Booster Pack
Contents: rarity cards
Status: Confirmed
Overall, it is extremely unlikely for booster packs to contain no rarity cards since the approximate release window was 53 days* and the initial sales of Base set were slow (20th October 1996 - 12th December 1996). 12th of December is the release date for the 1996 Yellow Gift Pack, from these sets people have pulled no rarity cards as well as rarity cards. I would not recommend opening loose short packs since they are extremely scarce and do not appear often.
---
Decks
There are 3+ variants of the Starter Decks. I will skip sealed deck cases since they are extremely scarce and I have never seen one that contains any variant of the 104-01 decks, that is not to say they don't exist just extremely scarce and I will update this section if I come across any new information.
Starter Deck Ver. 1
Postcode: 104-01
Rulebook: Ver. 1 or 2
Contents: no rarity
Status: Unconfirmed
Starter Deck Ver. 1 will contain no rarity cards, however this variation of decks has been opened before and rarity cards have been pulled. Here is a comparison between a Ver. 1 104-01 deck and a Ver. 2 104-01 deck. Ver. 1 decks have slight text differences at the back, have the opening seal also at the back of the deck rather than the side. Here is a video of no rarity cards being pulled from Ver. 1 decks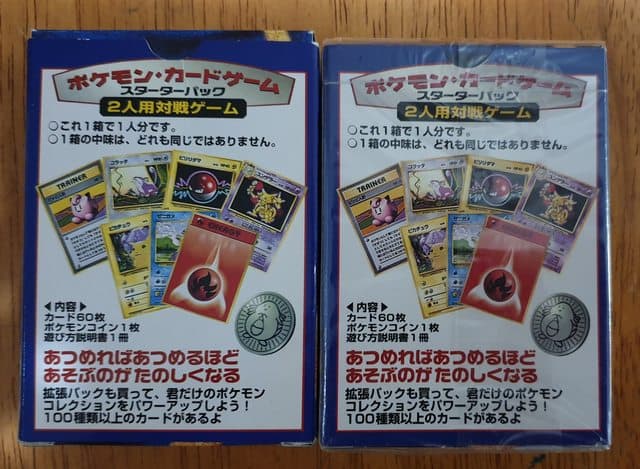 Starter Deck Ver. 2
Postcode: 104-01
Rulebook: Ver. 2 or 3
Contents: rarity
Status: Confirmed
99.99% of 104-01 starter decks you see will be this variant:

Starter Deck Ver. 3
Postcode: 104-0061
Rulebook: Ver. 3 or 4
Contents: rarity
Status: Confirmed
1996 December
On the 12th of December the Yellow Gift Set Pack is released it contains 2 starter decks. Both Ver. 1 and Ver. 2 of the decks have been found in these boxes.
January 1997
On the 12th and 13th of January Iwasaki attends the 5th Next Generation World Hobby Fair in Tokyo. He exhibits Pokemon cards at the Media Factory booth where he attracts the attention of rival toy manufacturers, meanwhile general customers were not as interested at the time (page 10). At the event, Iwasaki met Ishihara and other Creatures staff and they were finally able to share their thoughts about Pokemon cards, this was the start of their new informal relationship.
Attendee's personal account of attending the 5th WHF where they mention opening product with rarity cards.
Note: this is translated and should be taken with a grain of salt

20th October 1996 - 31st March 1997
From 20th October 1996 to the end of March 1997, a total of 87 million cards were shipped (page 10, line 33). 163 days total, includes 137* days of Base set and 26* days of Jungle
---
As a quick side note the first licensed Pokemon product was the Bandai Club toy series released in May 1996. There is a common misconception that the '1995' Topsun was the first Pokemon product created/released but this is incorrect. The Topsun cards were given their license from Shogakukan in 1997.
Bandai Club is shown on the left, I created a mock up based on a later version but it should appear similar.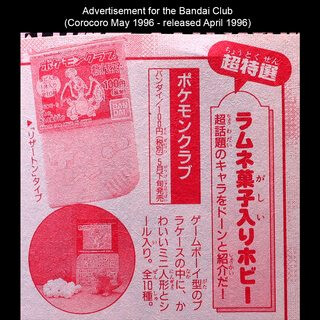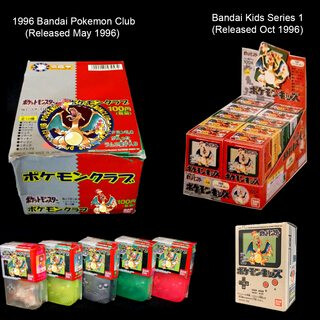 Translated from Topsun website

Much of Pokemon's early history is hidden and at least not easily accessible to a western audience so I hope this article helps explain the awesome history behind the release of Pokemon cards in Japan. It is quite obvious that we started from humble beginnings and a small group of people taking a risk that eventually turned into the card game that we all love. Special shout out to all the unsung heroes like Tetsuya Iwasaki who helped shape the early history of Pokemon and made it what it is today!