Welcome back and congrats, always fun to grade raw cards yourself and hit that 10.
Testing out the new photo upload feature with an absolute banger PSA 10 pop 2 card! Stoked to find and upgrade this one. I'm mostly looking to complete the collection but will take some upgrades when I can for sure.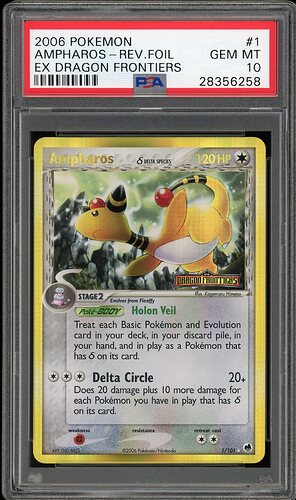 Amazing addition! Congrats!
Awesome collection and the formatting of the display in the OP is top tier!
Thanks so much! Really appreciate that.
Just got back an awesome PSA sub that I sent in back in June at the $30 Economy tier. I finally bit the bullet as I couldn't wait any longer and wanted to get some Ampharos sent off.
Really pleased with the results! The only confusing one is the rainbow GX getting a PSA 9 so I will need to upgrade that but everything else hitting PSA 10 is an amazing return! Topps Johto super difficult so I'm happy to just have in some slabs for the collection for now.
Overall I added 12 new cards to the PSA collection!! Super epic day!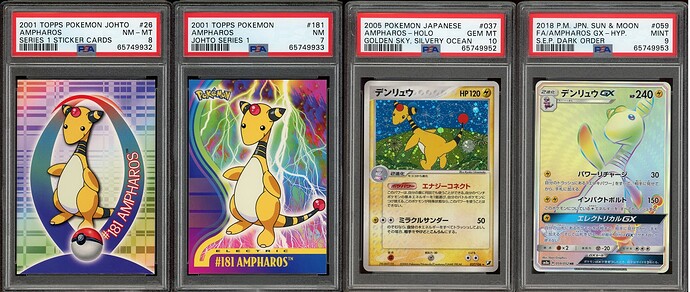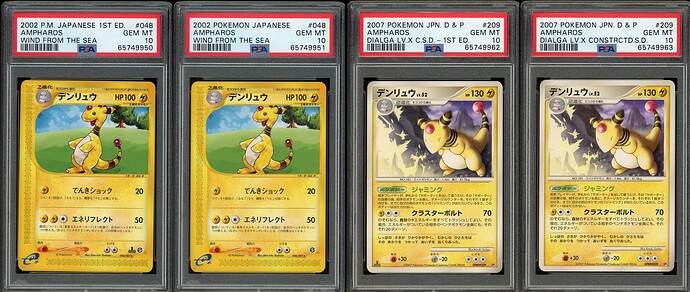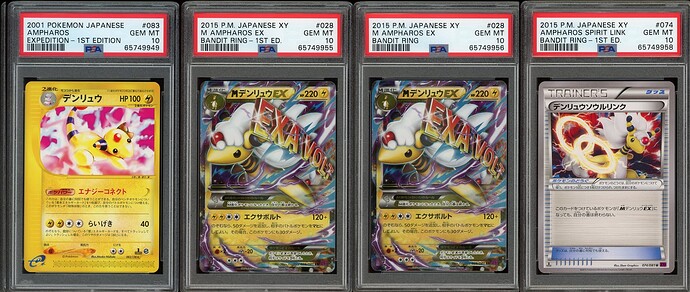 Very nice return! Nine PSA-10s, two 9s, and a 7 is pretty good. Congrats.
And some great additions to your PSA-10 Ampharos collection. Probably feels especially good grading it yourself, vs buying it as PSA-10.
Greetz,
Quuador
Thank you! Yes, it feels amazing to get some of these back as PSA 10 graded myself. A lot of hard work and searching for good raw cards to grade. I'm especially happy with the golden sky 10. Some of these though I had no choice, I had to grade them myself as they were pop 0 haha. No option to buy them even if I wanted to.
Well, they're pop-0 no longer. Congrats on owning some pop-1 PSA-10s of your favorite Pokémon.

Greetz,
Quuador
Great additions!
Not sure if you're interested in this kind of thing… selling on PWCC tomorrow.
HUGE UPDATES!!
Q4 of 2022 saw lots of new additions, upgrades, and my own PSA returns coming back!! I am thrilled to have made so much progress on my collection goals. Too many cards now to name but some of the notable highlights I've listed below including my first few CGC cards:
TRR Rev Holo upgrade to PSA 10 (pop 12)
Dragon Frontiers Rev Holo upgrade to PSA 10 (pop 2!!)
Steam Siege and Lost Thunder Theme Deck Exclusives PSA 10 (self graded and new to the pop reports)
Japanese EX Dragon Unlimited PSA 10 (amazing artwork)
Expedition

#34

Rev Holo Upgrade PSA 10 (pop 14)
And maybe my most unexpected and amazing addition, Japanese Dragon Blast Unlimited Ampharos Holo PSA 10!!! Huge shoutout to @parkermrparker for grading this and selling to me!! I honestly was doubtful if I would ever see this card let alone a PSA 10 copy. Of course, Pop 1!
I've cracked an Unlimited Bandit Ring Booster Box recently as well and scored a few nice hits that are at PSA currently.
If you ever see an upgrade or missing card, please let me know!! I can kind of sort of see a finish line of some sorts in the distance now. Here's to 2023 and adding more Ampharos!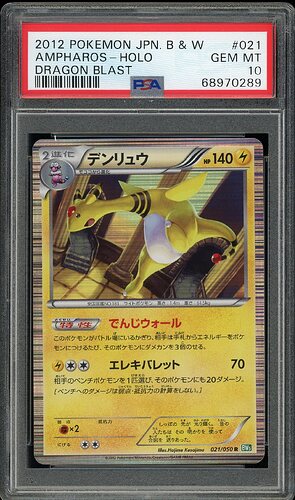 Yeah definitely a nice one but I consider it a "bonus" card for now. I might start going after those more after I complete the main set but for now it is a lower tiered priority.
I know this specific card is a pretty low priority for you but I just saw a PSA 10 on eBay. Figured you might be interested.
Thanks! Got it in my watchlist now and will be keeping an eye on it for sure.