Thank god he got subgrades. If I see one more CGC illustrator without subs I'm gonna panic
I want to put little wheels on it and steer it around like a Tech Deck.
Why do you think we see more and more high value cards being graded by CGC over BGS? I get that there is a difference between PSA and those two, especially with the upcharge nonsense, but why go with CGC over BGS who also does subs? Just curious…
The different grading companies all have different criteria they use to assign something a grade. For example, a dented card would only get a PSA 6 at most usually, whereas CGC gives plenty of dented cards CGC 8.5. Not implying this is a dented card, just using an example. BGS has its own grading criteria as well.
They most likely thought that CGC would be their best chance at the highest grade for one reason or another. Looking at the subgrades, they probably weren't confident it would get a PSA 10, but also knew that it was a stronger 9.
BGS has the ugliest, bulkiest, most horrible-to-hold slab of any bunch. A card in a BGS slab is in a plastic mausoleum that looks and feels terrible.
The only thing I like about BGS is the secure inner-sleeve, which funnily enough is reviled by most people. I also prefer their label, but the CGC label has very gradually begun to grow on me. I'm becoming desensitized to the default Windows Movie Maker blue gradient they use.
Whatever issues CGC might have, their slab is not one of them and they do subgrades. I would always do CGC over BGS in a case like this.
Any card i received from cgc except perfect 10 is an instant crack for me. Ugly blue, looks cheap, the only reason they went for it is for the higher grade, over psa and beckett. If the card was in slightly better condition i am sure PSA would get the nod, beckett is an ass when it comes to old back japanese and wotc cards, unless ure logan paul it is either PSA or CGC to get higher grades in a typical scenario.
CGC looks better than bgs imo. Bgs slabs look so murky and it's filled with debri ughh. Not to mention BGS's horrible website and pop report.
This card belongs in a 3 ring binder
If only the plastic holder didn't drive the value of the commodity. If only.
thread about cards with a non-PSA label
immediately becomes about bashing CGC and BGS
anyways I really enjoy this lower third out of context: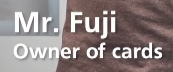 E4 fractional illustrator ownership? Someone call LP.
The 9.5's across the board make my brain smile.
I'll take this off your hands so I can destroy it


A year ago it would have been all 8.5's
Next year, they'll be 11s.
Yikes. I'll keep that in mind when buying cgc cards to crack.
If CGC started using an inner sleeve, I'd switch fully over to PSA lol. The primary advantage CGC has over BGS (and PSA, to lesser extent) is viewability. Viewing a card in a CGC slab feels much more like viewing a raw card. That's why I use them, at least. Would be curious to hear Mr. Fuji's rationale; wouldn't surprise me if it was the same as mine.
I'm really surprised PSA still hasn't found a way to consistently make clear looking slabs.
I'm not even talking about the frosting around the borders. The "clear" window to peer into the card is always different on each slab. Sometimes I get a slab back from PSA that is fairly clear and then sometimes I get one that has tons of light scratching or texture.
I agree that CGC's slab is nice, almost like looking through glass. I don't understand why PSA can't make better plastic slabs.