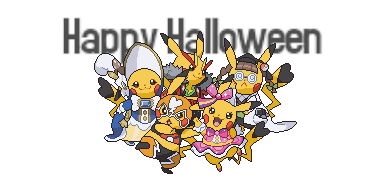 Hope you have enjoyed the decorations around the site! Are you doing anything interesting today (or yesterday for Australians?)
I hope everyone enjoys some candy corn today
How much do you like candy corn?
Site looks great! Thanks to all who make it happen.
Happy Halloween!




For those of you looking to watch wholesome halloween movies tonight, I would highly recommend watching Hocus Pocus and Hocus Pocus 2 in sequence. Disney did a great job on the sequel!
I loved how the site became progressively more spooky and more Pokemon showed up as we got closer to the actual date. Amazing work!
Nice touches, especially the drifloon in the text box! We are building the latest haunted mansion lego set here… very season appropriate!
i found out about the Halloween TCG packs too late. would have loved to give those to the trick or treaters tonight.
Happy Halloween E4. Hope everyone had a great time. I had a great weekend doing the Halloween hunt on the website. It was really well made.
Pokemon TV also has a compilation of episodes of some spooky trainers featuring Ghost / Dark type Pokemon. Should be a nice watch as well for anyone interested.
Cheers!
If that one family comes trick-or-treating again this year, they're in luck. I happen to have some spare Ferrero Rochers in the fridge.


Happy Halloween everybody! Hope you all had a good one


Spending my evening answering the door to trick or treaters, so far 10/10 take the trick or trade booster over the sweets (although they get sweets too, but don't let them know that

)