You are the real mvp!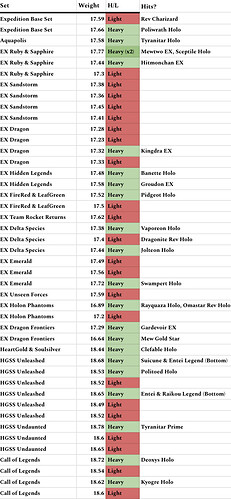 All the data I have to contribute right now. All of these were opened in 2020-2021 and as you can tell, I liked wasting money.
congrats on that mew. Quite a few ex pulls as well. Living the dream!
With that luck, I have vowed to never open another Dragon Frontiers pack

Thank you!
Also the (x2) by one of the EXRS packs was meant as a double hit, not two separate packs, sorry! - The pack order was different; Mewtwo EX was the 6th card and Sceptile was the 8th card in pack order. From what I've seen on youtube and IG it seems like one entire print run had this pull rate change.
Ah thanks for clarifying, that is a truely epic pack then. Likely the 2 most expensive cards in the whole set
Diamond & Pearl Majestic Dawn
Heavy
20.21 - Holo Rare Cresselia + Normal Reverse
Majestic Dawn - 18,54g - Light
Supreme Victors - 18,53 - Light
Arceus - 18,60 - Heavy
Neo rev unlimited 20.95 heavy (Celebi)
1st ed Fossil 21.29 heavy (Hitmonlee)
Ex Dragon - 17.48 - LIGHT (Cant believe it really lol)
Neo Destiny:
20.94 - light
20.93 - light
21.13 - heavy
edit: 20.77 - light
HGSS Base
18.55 - Light
18.58 - Heavy