for the moment it is the only one known, it is graded by a French grade very famous for errors
Was going through some bulk HGSS holos and found this nice holo bleed Quagsire. Don't see too many from this era that pop so much. It's neat.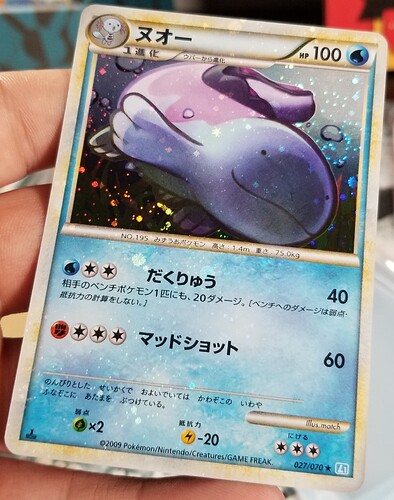 I know of one copy owned by necrozmarc. Might be who @Lobfay is referring to. I don't own any outside of the english variations.
Fun fact for this Filler, there are actually 2 variations of it (outside of the alternate languages). They can come with the standard English back or a white back with a dark blue border. Examples Here: https://imgur.com/a/YH6k9aD
First time actually commenting on E4, hope I did this right


The similarity between these usernames stresses me out.
Also, welcome to e4! You did a great job with your post.
Marc it's m'y friends

this card is mine for the moment and I have reserved it there is only one known for the moment
Whelp since I got sucked into this thread, I might as well contribute to it. For those that don't know from other platforms, I collect Filler Cards! I'm trying to get as many different styles as possible.
My collection currently consists of 28 unique cards. 26 unique styles and 2 autos. Here are pics of 26 of them. 2 are currently in grading. https://imgur.com/a/wfGMMjy The 1st set of pics are a collage of scans I put together a couple months ago. Those not with the scans are new additions since those there done.
All that said, I'm always looking for new Filler cards I don't have, If anyone happens to have any or see any they can point me towards, I would greatly appreciate it!
Really cool niche collection concept. Had no idea these could get graded so specifically.
Super neat collection! I didn't realize that there were so many different types of filler cards.
I love a collector with a niche. So cool.
There are currently 36 recognized by CGC

https://www.cgccards.com/population-report/pokemon/2/test-prints-oddities-other/54/filler-card-english/4710/?page=1
Wow, that is cool! I have a "Discard" Magic the Gathering filler card. Maybe some day I will grade it with CGC.
I'll be honest, I don't hold the way they do the pop report/recognition as the gold standard for recognizing Filler cards. It has some issues imho
-For some reason the eReader Filler card is in its own seperate eReader pop report rather than with the other Fillers
-From B&W through SwSh, there is no way to distinguish the era from the standard yellow border. You could pull one from a SwSh pack, sub it as B&W, and it'll come back B&W. I personally consider them all "modern" and the same. Which would eliminate a handful of entries from the pop as well.
-I've spoken with CGC employees and they no longer grade the "Blank White Front" as they can't prove the authenticity. So I'm not sure why they still leave the ones they did do on the pop report instead of removing them and flagging the cert.
-This one is just nitpicky but they have 3 different wordings for the standard back. "Normal Pokemon Back", "Normal Back", and "English Back". Please pick one.
And in the end, none of this really matters because nobody is looking at it in this level of detail

Rant over
Have you tried talking to them about this? Maybe they can make them standardized