I think I was in QA 2 for around 5-7 days.
can't wait for mine to be done. been qa 2 since 11/10
The awkward moment when qa2 is taking longer than the grading stage.
When the tracker first came out, bulk orders were taking me about 4-5 months.
Qa check 1 and qa check 2 were all up about 3-4 days.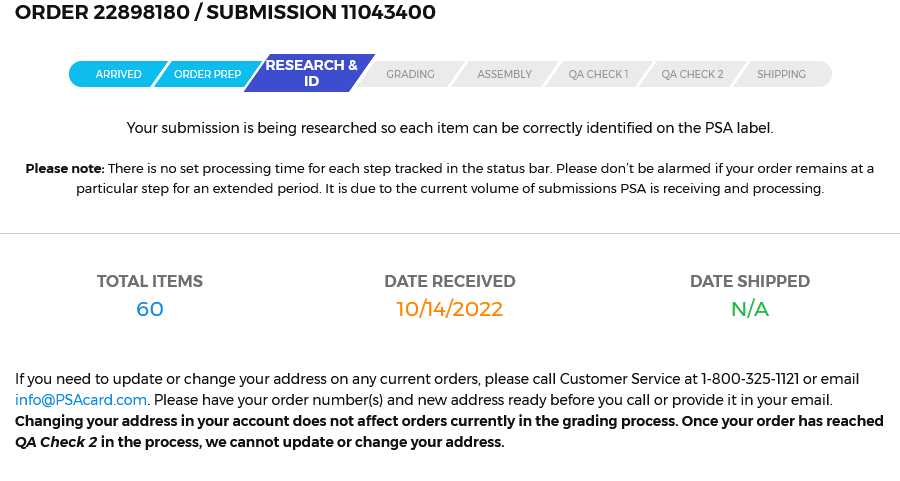 What happend to my order…
3 other orders at same tier and enter date has been completed today.
Anyone seen this before?
maybe they give priority to domestic submission
My $15 order past my $18 order. So as it looks now I will get the $15 back before the $18.
Weird because they were 3 weeks after each other received.
Service Level: $15 TCG Special
Date Received: 10/14/2022
Date Shipped: 11/18/2022
Total Items: 10
Wish I kept track of the dates my sub went into R&ID, Grading, etc. Maybe next time. In just a little more than a month they were able to churn out my order, I'm honestly impressed.
My $18 special order finally finished, Aug 15 - Nov 15
CGC 35 card bulk submission. Cards left on 11/3 will be out for delivery 11/21.
my 3 PSA $15 special bulk orders have gone from arrived (10/24) to QA2 (11/21) in under 30 days lmaooooo
$15 tier seems to be flying through for a lot of people. I got one back today that arrived at PSA on the 11th of October (shipped back on 18th of November). Another one arrived at PSA on the 26th of October and just hit QA2 on Thursday or Friday.
Both are much quicker than my $18 subs (and even $50) were.
My $22 Bulk order from 9/28 just got done. Slower than my TCG special, but still pretty quick.
My reholder submission for one card just arrived back to me today after having arrived at PSA on 10/25. Meanwhile, my three-card auto submission and 200-card $15 tier submission that arrived the same day are still in research&id and grading respectively. I'm guessing the $15 special order will probably take some time because it's a relatively larger order.
Had my economy sub enter 11/14 and just hit QA1 today 11/22. So we will see how long it sits there
139 card $15 sub that arrived at PSA on the 26th of October just shipped. 4 weeks exactly, unreal.
My order of $15 grading tier arrived OCT 13th and is in Grading


How do people's cards arrive a week after mine and ship out already??
I just want to express that I don't know how you guys don't go crazy. I submitted several economy submissions on a single order to CGC at a show on 11/4 where they quoted a 2 week turn around for all cards submitted at the show. 11/10 they were finally input as received. Most of the order went into grading/encapsulation immediately within a day but then its sat there til 11/25 where it moved to grading/quality control. Now I'm waiting and checking daily about the last submission that just went from scheduled to grade into grading on 11/28. It was disappointingly slow but within their published window of 20 business days. I'm hoping that the card that held up the order was actually able to be authenticated and graded and wont come back with an altered label, but I wont know until its further along. I guess I wouldn't be so anxious if they didn't say 2 weeks at first. I just wanted to rant and give respect to all the graders before me that had orders get stuck the past 2 years, even just an extra week or two is agonizing. Good luck everyone.