Can you give me some info on Raichu Prerelease?
Does it really exist and does anyone have it?
it exists but it also doesn't exist
It exist, only know copy is owned by www.instagram.com/dpersin1/. It was also featured on this forum with High res photos but I belive the thread has been closed.

Not to be mean to OP. But I couldn't help myself. If thread locked mods please move to meme thread.
Bruh, it's a real card. It can be found in a prototype jungle blister pack.
Its a real card that never intended for distribution outside WOTC. Some have gotten to the public via employees who sold many years later.
Yes. I saw a copy last time I visited Bigfoot. He told me he got it from Chupacabra.
Cool card indeed. You mean this one, right? Right??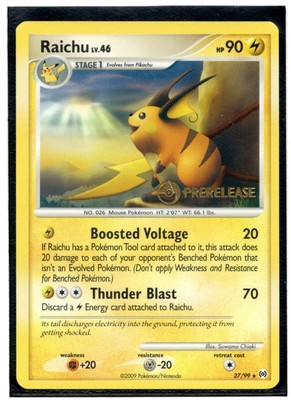 Did you know Logan Paul has one with square cut corners, I'd say it's much rarer than normal Prerelease Raichu. Here's proof.
Plus they can be duped easily. That stamp is easier to reproduce than all the E4 (E3) stamps that were duped perfectly in VietNam.
Knock yourself out with reading.

As mentioned in a comment above, David Person aka dpersin1 owns a Prerelease Raichu, although I don't think he showed it in a video or IG post yet (I could be mistaken?). He's the #1 English Pokémon TCG collector (here a sneak peak at his collection where he shows the English trophies).
And also as mentioned above, there is another Prerelease Raichu for the Arceus set.
---
Before the endlessly looping discussions and memes are going out of hand:

Greetz,
Quuador